onEco® +Analytics
Privacy-focused, carbon conscious web analytics

and insights platform which is also beautiful
Honest analytics: home of sustainable websites
Respect yourself, mankind and the planet while improving your website and your business. Get a powerful analytics and insights platform that is also a faster, lighter, greener and GDPR compliant alternative to Google Analytics.
No cookies or consent banners
EU infrastructure
Getting started is easy
Awesome support in German and English
Made for all your screens
Reduce your digital carbon footprint
Built-in carbon offsetting
Certificate badge and profile page
Get started risk-free
90 days money-back guarantee
No cookies or consent banners
GDPR compliant
Planet positive
Better reputation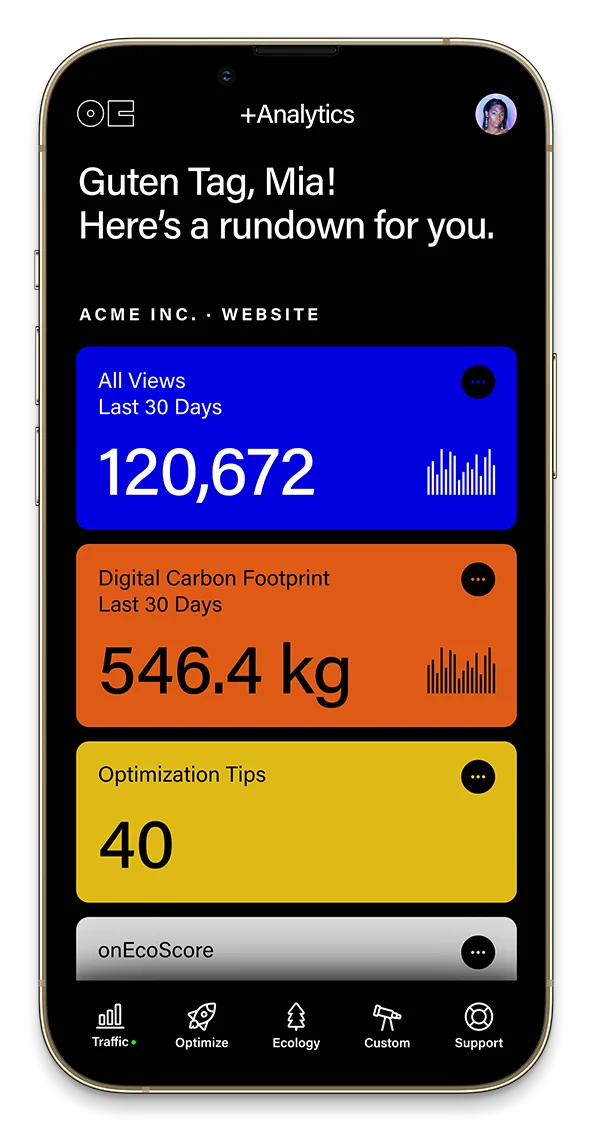 See what real people have to say
Trusted by climate-conscious leaders
Trusted by real people and climate-conscious leaders
Got questions? We have answers.
Is the internet really a big environmental issue?

Bigger than most people think. According to recent data, it is responsible for about 4% of global CO₂ emissions. While this might sound not much, it´s bigger than the entire aviation industry. We think it´s far easier and faster to address the environmental issues of the internet than to stop flying all together.

How do you make my website climate friendly?

First, we measure your digital carbon footprint. (To be clear about that: We`re actually measuring and not just guessing it.) Then we help you reduce it. Finally, we automatically offset what is left. (And even some more, up to your included offset amount.)

Why should I care about the carbon footprint of my website?

Because it´s obviously the right thing to do. Your website has a digital carbon footprint. You should know that. You´re responsible for it. You can reduce it (and you should). You can offset, what´s left. If you don´t, people will notice. Maybe not today, but some day, because climate change is getting worse until we all do our part. We understand that´s still not enough for some people. That´s why we made +Analytics beneficial regardless of your respect for the environment. If you optimize your website with +Analytics, you not just reduce your digital carbon footprint, but also improve your website performance and search engine ranking.

What is a digital carbon footprint?

A digital carbon footprint is the CO2 emissions resulting from the production, use and data transfer of digital devices and infrastructure. It belongs to Scope 3 emissions.

How does the money-back guarantee work?

We have complete confidence in the quality of +Analytics and firmly believe that you will be more than delighted with your subscription. However, we understand that sometimes things may not go as planned. That´s why we offer our amazing 90 days money-back guarantee. So, no need to worry, simply send us an email at [email protected] and we´ll take care of everything for you. We´ll promptly process a refund for the full subscription price, which will be promptly credited back to your original payment method. Your satisfaction is our utmost priority, and we´ll ensure that you´re a happy customer!

Do you offer a free tier?

Yes, we do. Free plans are available for qualifying entities upon request.

Is there a free trial?

To offer a free trial, we would need to provide the same ressources as for a paid subscription. With a free trial in general a lot of signups aren´t that much interested in actually using the product. As we don´t believe in wasting ressources, we therefore don´t offer a free trial. But we do offer a 90 days money-back guarantee and we have free plans available for qualifying entities.

How am I billed?

We use Stripe as our worldwide payment provider, offering several payment options, and have a monthly billing cycle.

How long do I need to wait for performance insights to be available?

After you embed our code in your website it should take around a week until first results are available. We could do this faster, but we are trying to do this in the most efficient way possible. More often frequented pages on your website will come up first. Never visited pages will not show up at all.

How long does it take for my website´s carbon footprint to be analyzed?

If our code is embedded in your website, results will be available after a month. We´re considering to make this faster in the future, but will only do so if we can do it without sacrifying efficiency.